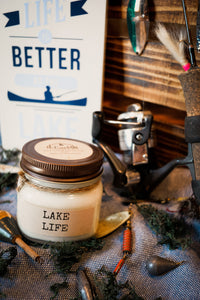 It wouldn't be Minnesota without time at the lake - succulent plum intertwines with sweet florals and salty oceanic ozone for a bold, rich accord. Notes of vanilla and amber linger in the background to complete this unique fragrance.
Note Profile:
Top: Plum, Sea Salt, Ozone
Middle: Floral Cardamom
Base: Amber, Vanilla
6 oz square mason jar candle, hand poured in Minnesota.
Between 30-40 hour burn time. 
Always trim your wick to 1/4 inch each time you burn your candle. Trimming the wick will allow your candle to last longer and prevent the candle from smoking and producing a large flame, which could lead to soot around the top of the mason jar.    
Soy wax is known for frosting. This is typically what you might see on the top of your candles. These candles are perfectly imperfect due to their artisan, handcrafted nature. 
Photo(s) by C. Haugen Photography